Air Link Networks' Data Center and Colocation Facility
Threats can come in various forms, from natural disasters such as earthquakes and storms, to human induced events such as sabotage and acts of war, the ever increasing occurrence of cyberattacks and many more. Whatever is its source, these threats can knock your business flat by destroying or damaging your IT Infrastructure, corrupting or deleting your precious Data, or both. Your Data and the IT Infrastructure on which it resides, and those that run your applications, are the cornerstones of your business. 
In the unfortunate event that your equipment goes down and your critical Data is compromised, your business should suffer minimal downtime. You can develop a Business Continuity Plan by following the basic Six Step Cycle shown below and let us provide you with the required Business Continuity services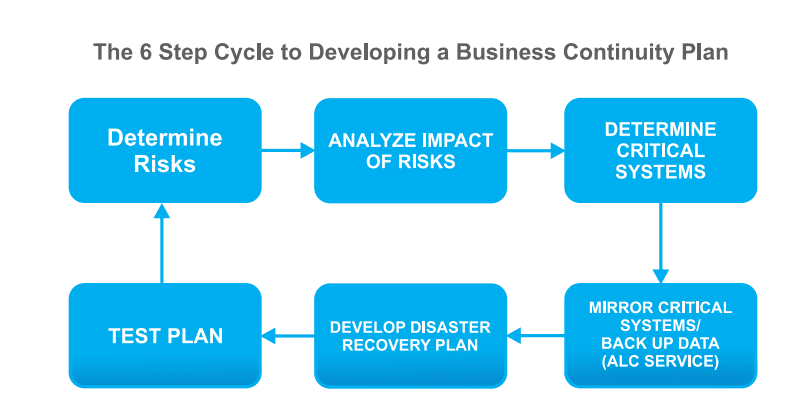 The Air Link Data Center brings resilience to your business depending on how prepared you want to be, allowing for Business Continuity through our PaaS, IaaS and Data Backup services. We can mirror your critical IT systems so that you can resume your business swiftly if a disaster strikes, or provide you with the space needed to backup your critical Data at our secure, ANSI/TIA Rated 3 certified facility.
Don't allow your Business to remain on the ground if a disaster strikes, let us help you to stand again with our Business Continuity Services.